One of the most compelling and entertaining shows on Dave at the moment, or Television in general at the moment is taskmaster. The creation of Alex Horne, of the Horne Section comedy band it provides a welcome antidote to the established panel game much in the same way as "I'm sorry I haven't a clue" does on Radio 4. The premise is simply, five comedians or presenters are given some strange and unusual tasks to complete for points given out by the host Greg Davies. These points are all at Greg Davies distraction so it can be anyone's guess as to what they will get. One task they won't do is fixing a TV aerial Installation Swansea or any other part of the country. I wouldn't trust Richard Osman's ability to do that.
The show's host Greg Davies sits on a throne and dictates to "little" Alex Horne (whose not little at all but the name appears to have stuck now as Alex Horne has revealed.)what Task are to be shown. Alex Horne is the driving force behind the show and its creator. He is also the Producer and executive producer its longevity seems to be down to his ingenuity and the willingness of Britain's stable of comedians to appear on it. The guests so far do read like a who's who of Britain and Irelands finest. There are big hitters such as Noel Fielding, appearing, as luck would have it, with Mel Giedroyc  at the same time that the whole Bake off to Channel Four change over occurred. There seemed no animosity at all between them and they sat next to each other. Other major stars include Russel Howard, Aisling Bea, Rob Beckett, Sara Pascoe and  Jon Richardson. It's also given time to the older stars like Frank Skinner and Bob Mortimer.  The great thing about the show is that it also introduces lesser known acts to give them some exposure. This has worked for Nish Kumar and Paul Chowdhry .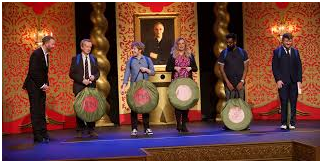 The idea for the show came to Alex Horne whilst he was watching the Crystal Maze.  Horne was also inspired by his time working on Big Brother. It was not his intention for the programme to be a game show as such it was n more the intention to make it like a sitcom. The tasks give the contestants the chance to come out of their usual comedy routines and work on a free flow basis.
The show is great and the tasks are off the wall to say the least. For example one of the task was to put as much money into the Taskmasters bank account, Hugh Dennis gave 2 million Vietnamese Dong, which worked out to be about forty pounds. Others are more physical such as make this gnome happy or Paint something with these Salad cream. The show ends with a live Task designed to create as much mirth as possible.