The Philips 24PFT4032 is a 24-inch TV with Full HD resolution. It is a simple, lightweight equipment that we can use both as a TV and as a monitor. A television with a nice blank design and several inputs to connect our devices. And best of all, a very economical TV. We can find the Philips 24PFT4032 for a price of about $270. A perfect TV, suitable for the kitchen or children's room.
Philips 24PFT4032
If you are one of those who before buying any device take a look at the analyses of the specialized press. Surely you have noticed that most televisions analyzed are the most expensive and large models. And it is normal. After all are the ones that we all want to have and those that normally attract us the most attention. However, at the moment of truth, it may not be these models that we seek.
Imagine that you are looking for a small and simple TV for the kitchen or a bedroom. It is complicated to find analysis of this type of televisions. That's why we wanted to analyze the Philips 24PFT4032, a small 24-inch TV with Full HD resolution. After trying it for a few days, we tell you our impressions.
Specifications of Philips 24PFT4032
Diagonal
24 inches
Resolution and technology
Full HD, Digital Crystal Clear, Brightness 280 cd / m², Maximum luminance ratio of 65%
Panel Type
LED
Dimensions
56.2 x 33.6 x 6.1 centimeters
Weight
3.26 kilograms
Support
Two plastic legs and about 11.5 centimeters in length, VESA 75 x75 mm
OS
No internet connection
Apps
Media player
Control
Remote control
Sound
6 W, Best sound: Surround sound, Sound clarity, Automatic volume control, Bass control and Intelligent sound control
Connections
2 x HDMI, USB, Scart, DVB-T / T2 / C, CI + Tuner, Optical digital audio output, VGA, Headphone output
Wireless Connectivity
Not available
Release date
Available
Price
$270
Design
Portable and stylish, it defines Philips to 24PFT4032. This TV has a touch of difference that we cannot find in other models. Indeed, we speak of the signal white color. The manufacturer has used a white frame with the glossy coating that fits almost any decor.
In addition to its color, this white frame is quite striking because of its size. We have a frame of 1.5 centimeters on three sides, reaching 2.3 centimeters in the lower area.
Rear
At the rear, we have a plastic housing that is also completely white. The upper area has a ventilation grille, as in the area of connectors. In the central part, we find the four holes for the VESA support.
Under these screws, we have a lower zone that includes the connectors. As we will see, there are not many, but enough for a TV of these characteristics. The connectors extend to one of the sides of the TV. Where we have a kind of gap that will be great for us to connect a USB stick without this annoying.
Placing the TV on a piece of furniture or a table includes two small plastic legs with a glossy finish. These are placed at the ends of the TV with a screw.
If we decide to use these legs as the support we must take into account that the screen is slightly tilted back. For a television of this size is not too much trouble, but it is good to keep it in mind.
A clear sign that the Philips 24PFT4032 is intended as a portable television is the incorporation of a Kensington connector.
Remote
As for control, a very light remote control is included. The finishes are very simple and look like being quite breakable. The main color of the remote is white, with the letters of the keys in black and a central area in gray. The buttons are the usual ones that we find in a remote control.
In addition, thanks to EasyLink we can use the remote control of the TV with most equipment connected by HDMI. In our case, we tested an Android set-top box and it worked perfectly with the TV remote.
Enhanced Full HD Image
Philips 24PFT4032 has a screen 24 inches and full HD resolution of 1,920 x 1,080 pixels. The panel has a brightness of 280 cd / m² and a ratio of maximum luminance of 65%.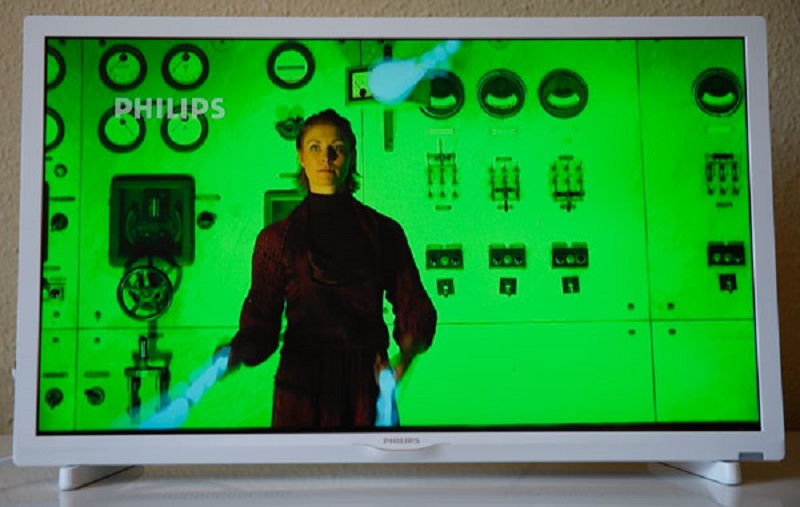 Image Quality
The image performance index combines display technology with advanced image processing engines to improve sharpness, movement, contrast, and color.
Also included is the Digital Crystal-Clear technology. It gets more natural images from any source. According to the company, this system achieves a contrast, color, and sharpness optimum with any content.
Now we will review how the image looks according to the sources. We already do in advance that it surprised us for good. The Philips 24PFT4032 looks great with any source, highlighting with Full HD content. Also, we have also tried playing with the PS4 on this TV. By setting Game Mode, we have not detected any response problems, ghost effects or any other imperfections in the image.
DTT
The image with low-resolution content, such as DTT(digital terrestrial), is good. It is true that the small size and Full HD resolution help achieve a good result.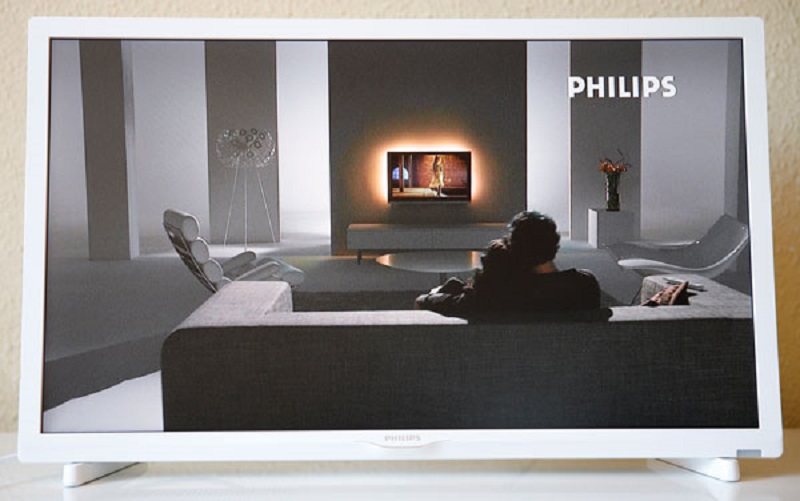 The HD channels have a very good quality. This improvement even more if we see some content of the channel, as some recent series. As for the SD channels, we lose quality and it shows that the image loses sharpness. However, as we said, the small size of the TV helps to see DTT is quite pleasant. Note that the scaling that has to do the TV is not as sharp as the 4K TVs have to do.
Full HD Content
Obviously, the more we enjoy the Philips 24PFT4032, the more we will use higher resolution fonts. The truth is that we have been surprised by the contrast, black levels, and sharpness achieved by a TV that the manufacturer himself considers portable.
We have also detected more detailed shadows and more information in dark scenes than we might expect on such a small and economical television. As for the viewing angle, the TV starts to distort at about 30 degrees.
In short, the HD source images are quite clear and have a lot of detail. The images are not especially bright, but we do have a good contrast and a screen that absorbs the reflections wonderfully. Moreover, this matte finish of the screen favors the good image quality that the TV gets.
Sound & speakers
As you might imagine, such a small television cannot include a powerful sound system. Still, the Philips 24PFT4032 defends itself. It has an output power of 6 W RMS and several sound modes.
At the software level, the TV has improvements such as surround sound, sound clarity, automatic volume control, bass control and intelligent sound control. Despite not having much power, we have noticed a very achieved surround effect in the films. At least putting ourselves pretty close to the TV.
Menus and Settings
The Philips 24PFT4032 TV does not have an Internet connection, so we do not have too many system level options. The menus are quite intuitive, with a very visual black and white design.
The EPG follows the same design as the other menus, with white lettering on a black background. The only application we have available is the media player. To use it we will have to connect a USB stick with content. The player works correctly.
That same USB port will serve to be able to record content in a hard disk or USB memory. As we said the EPG is very easy to use and will facilitate the recording.
Connectivity & connectors
The Philips 24PFT4032 is a small TV, intended to be used as an auxiliary TV for a room or kitchen. That is, it is not intended to connect a lot of devices. Still, we have several connections available.
In the main connection area, we have two HDMI ports (one of them ARC). An optical digital output, a VGA port, an Audio In port, a Euroconnector and the antenna connector. As you can see, Philips has thought of everything. We have two HDMI ports to connect, for example, a set top box and a console. But also, a Euroconnector (very rare to see today) in case we want to connect some older device.
Side connectors
Also on the back side but oriented towards the side, we have three more ports. In addition to the slot for the IC card, we have the USB port and the headphone jack. Also, a small button to turn off the TV.
Conclusions and price
Sincerely, the Philips 24PFT4032 has pleasantly surprised us. The image quality that this small TV gets makes it a great alternative for a room or kitchen. The matte screen seems to us a great success and favors to obtain some deeper blacks and to avoid the reflections.
Image quality, both in DTT and in HD content, is very good. Logically, the more quality the source has, the better the TV will look. We have not noticed any distortion in the image, not even stelae in fast movements, very common in low-priced television.
You can buy this product from Philips online store. You can get free shipping and 2 years warranty.
Philips 24PFT4032 price
Perhaps the lack of Wi-Fi connectivity and intelligent features may be a problem for some users, but this is solved by connecting any set-top box to the TV. The price of Philips 24PFT4032 is about $270.