You've most likely heard of these rings but what do they symbolise and when would you buy one as a gift? An eternity ring is mostly worn by women but can be seen on some men as an alternative to an engagement or wedding ring. They are most often used as a beautiful gift to mark a special occasion or life event.
An eternity ring comes in a distinctive circular shape and normally has diamonds adorning the band. The circular shape symbolises a love that lasts forever, with no end. They are one of the more skilled pieces of jewellery to construct and display the great craftsmanship involved in making something so stunning.
One of the key features of this type of ring is the diamonds or gems that sit around the band. The band itself is usually made from a precious metal, such as platinum or gold. An eternity ring with gems or diamonds set around the band is referred to as a full eternity ring. As the name would suggest, a half-eternity ring has such decorations only on the top half of the band.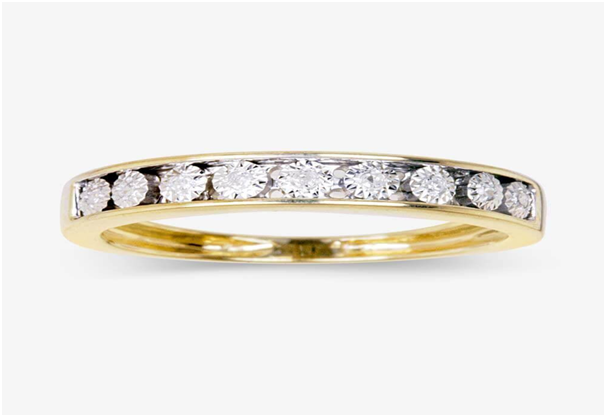 Full rings are considered the most beautiful and luxurious type, with gems and diamonds set fully around the band. For the ultimate in opulent sophistication, a full eternity ring is the one to choose. The amount of diamonds or gems is obviously reflected in the price. For Buying Diamond Rings Online, visit comparethediamond previously known as Diamond Geezer
Half rings are cheaper but still make a glamourous and cherished gift. Whilst not as extravagant, with only a half-band decoration, many people prefer them as they are more comfortable and don't catch on things like a full eternity ring might. A half eternity ring can also feature much larger gems or diamonds on the top of the band compared to one that has them all the way around. Generally cheaper, the price still depends on the total carat weight of any diamonds used and what the band is made from.
The idea for eternity rings comes from the time of the Ancient Egyptians. Around 2000 BC, the circle was an important symbol of eternity in Egyptian hieroglyphics. It was believed that the marriage bond between man and wife could not even be broken by death. The wedding ring was first used in Egypt when these two ideas were combined. Rings found in Egyptian tombs had beads, gems or carvings all around the band and this is where the design originates for today's eternity rings.
The most popular choice for an eternity ring is one that includes diamonds. As one of the toughest and most precious substances on earth, they make the ideal symbol for eternal love and absolute commitment. For………………………………………….
Eternity rings are the perfect gift for special occasions in life. These could include a special anniversary, on the birth of a child or even on your wedding day. Other good occasions for the gift of an eternity ring include milestone birthdays, Valentine's Day or Christmas. These are the most popular times for any purchase of jewellery. They represent an eternal love and are wonderful heirlooms to be passed down through the generations of a family.